Meet Our Fitness Instructors
Allison A.
Teaches: Les Mills BodyAttack/BodyCombat
It is my stress relief for the day! I love the energy, positivity, and fun that my participants bring to my week. I have met so  many wonderful people through my time as a WVU Rec Group Fitness Instructor, and I always look forward to what each class will bring. My hope is that my participants gain this same joy and sense of fulfillment from my class.
Alexis K.
Teaches: Barre
I love working out in a group atmosphere. The positivity and motivation expressed through group classes makes working out enjoyable. I want to create that experience for others when they come to my class!
Blaise R.
Teaches: F45
I love the energy in the atmosphere when a group of people are actively
participating in having fun and bettering themselves in community with one
another. It's a privilege to galvanize each other on the journey of physical and
mental health.
Gabby M.
Teaches: Full Body HIIT
I enjoy teaching group fitness because I enjoy the environment and love the impact I get to have on the people who take my classes.
Gillian W.
Teaches: Barre
I enjoy group fitness because I love seeing faces light up when they find a workout regimen that works for them like it does for me.
Jaclyn S.
Teaches: BODYPUMP, GRIT
I enjoy group fitness because over the years, I have become strong and athletic, all while exercising with my friends. Group fit has been a huge part of my life and has brought nothing but joy!
Suhil Z.
Teaches: Power Vinyasa Yoga
I enjoy sharing what I've experienced and learned on and off my mat when I lead my yoga classes.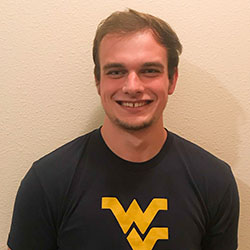 Jordan B.
Teaches: High Fitness
I enjoy group fitness because of the atmosphere it provides. It is a fun and supportive environment that is welcoming to all ages and ability levels where you can get a great workout!
Jordyn U.
Teaches: Cycle
I got into fitness a little over two years ago and group fitness will always have a special place in my heart. As someone who always feared going into the gym and not knowing what to do, group fitness allowed me to follow along with the instructor while also being surrounded in an encouraging environment. I want to be able to give that experience to others and help them find their passion for fitness and have fun while doing it!
Kimberly Z.
Teaches: Cycle
Kylie L.
Teaches: BodyFlow, BodyPump
I first attended Jaclyn's BodyPump class and fell in love with the sense of community I found within the group. I really wanted to be a part of it and help participants feel as comfortable as possible. I have found lifelong friends from teaching and participating in group fitness at the rec, and I want others to find that too.
Nick H.
Teaches: Full Body Strength
I enjoy group fitness because it helps to have a community to help keep me
accountable and to engage with throughout my fitness journey.
Reilly A.
Teaches: Cycle
I enjoy cycle and group fitness because I love connecting to people that have the same passions as I do and feeding off everyone's energy in the class. Having fun, listening to good music and working out brings out the best in me, and watching it bring out the people around me is an indescribable feeling.
Scott G.
Teaches: Cycle
It gives me an opportunity to unwind, share my journey and experiences of how fitness has helped me in life.
Stephanie M.
Teaches: BodyPump, F45, Zumba, Hip Hop, Barre
Tyler B.
Teaches: Cycle
I wanted to become a group fitness instructor so I could share my love for cycle and group fitness as a whole. I also wanted to get involved in group fitness to meet other students who also enjoy working out in an encouraging environment.
Tyler N.
Teaches: F45
Ever since I was young, I have had a passion for exercise. Whether it was in sport or in the weight room, I have always been moving. I love the opportunity to spread my passion for exercise to those that are either just starting exercise or
looking to continue/explore exercise and fitness in a new way. I intend for my class to be something to look forward to in a day. I hope that my class is fun, motivating, and helpful to all those that decide to take it. My goal for my participants has nothing to do with a mirror, a scale, or a clothing size, rather, my goal is that my participants leave with a sense of joy and excitement for exercise.